The day the first gorilla was born in a zoo – level 1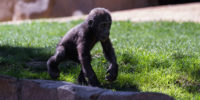 22-12-1956
The first gorilla is born in a zoo in 1956. It is in the United States. Her name is Colo. The beginning of her life isn't easy. She is born two weeks early. For some time, nobody knows that she is born.
On December 22, one keeper sees her on the floor in the morning. She isn't moving. She isn't breathing. The keeper starts resuscitation. After some time, Colo starts to breathe.
There is another problem. Colo's mother doesn't know what to do with her daughter. The keepers must give Colo food. They must be with Colo all the time.
When Colo is bigger, she starts to be very popular in the zoo. Many people want to see her. Many people come to the zoo.
Thanks to Colo, people want to know more about the life of gorillas. They want to help gorillas. Many organizations start to work on the protection of gorillas in the wild.
Later, Colo is a mother of three young gorillas.
She dies when she is 60 years old. It is a very high age for a gorilla. Gorillas in the wild usually die when they are 35 years old.
Difficult words: early (before usual), keeper (a person who helps animals at the zoo), breathe (to take air in and out), resuscitation (an activity which helps somebody breathe again), protection (an activity which helps somebody to be safe), wild (nature), age (how long somebody lives).
What do visitors to the zoo learn from seeing Colo, and how has her influence helped to protect gorillas in the wild?
LEARN 3000 WORDS with DAYS IN LEVELS
Days in Levels is designed to teach you 3000 words in English. Please follow the instructions
below.
How to improve your English with Days in Levels: 

Test
Do the test at Test Languages.
Go to your level. Go to Level 1 if you know 1-1000 words. Go to Level 2 if you know 1000-2000 words. Go to Level 3 if you know 2000-3000 words.

Reading
Read two new articles article at Days in Levels every day.
Read one previous article too and check if you remember all new words.

Listening
Listen to the new article and read the text at the same time.
Listen to the new article without reading the text.

Writing
Answer the question under the new article and write your answer in the comments.