The day the first European saw the Pacific Ocean – level 2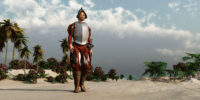 25-09-1513
Vasco Nunez de Balboa was a Spanish explorer. In 1513, he was a leader of an expedition to the Pacific Ocean in Central America.
He started his journey across the Isthmus of Panama on September 1. The expedition was made of 190 Spanish men, some native guides, and a group of dogs. The expedition had to go through a jungle. They also had to fight different groups of natives.
At the end of their journey, they had to go across mountains. The natives told them that they could see the Pacific Ocean from the tops of the mountains.
On September 25, 1513, Balboa reached the top of one of the mountains and saw what no other European saw before – the waters of the Pacific Ocean.
Difficult words: expedition (a long journey, a group of people on a long journey), isthmus (a narrow piece of land with water on each side), native (natural to a place), native (a person who is born in a place), reach (to arrive at a place).
What difficulties did Balboa and his men face on their expedition to the Pacific Ocean?
LEARN 3000 WORDS with DAYS IN LEVELS
Days in Levels is designed to teach you 3000 words in English. Please follow the instructions
below.
How to improve your English with Days in Levels: 

Test
Do the test at Test Languages.
Go to your level. Go to Level 1 if you know 1-1000 words. Go to Level 2 if you know 1000-2000 words. Go to Level 3 if you know 2000-3000 words.

Reading
Read two new articles article at Days in Levels every day.
Read one previous article too and check if you remember all new words.

Listening
Listen to the new article and read the text at the same time.
Listen to the new article without reading the text.

Writing
Answer the question under the new article and write your answer in the comments.