The day the first animal orbited the Earth – level 3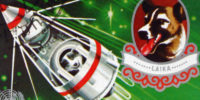 03-11-1957
In October 1957, the Soviet Union launched the first satellite into orbit named Sputnik 1. After its success, an order arrived from Moscow to repeat the flight with an animal on board as soon as possible.
For the mission, which was a one-way flight, a female dog was chosen. Her name was Laika, and she was found as a stray dog ​​in the streets of Moscow. She had a phlegmatic nature, which was ideal for the demanding training and the following stay in space.
The day before the flight, one of the doctors took Laika home to play with his children.
Then November 3, 1957, came. Laika was brought into orbit on board Sputnik 2.
It is estimated that Laika died after 7 hours of flight due to a failure in the equipment which caused too much heat inside Sputnik 2.
This flight, however, proved that a living organism or being could survive in orbit. In the following years, preparations could begin to send the first person into orbit. This was achieved by Yuri Gagarin in 1961.
Difficult words: orbit (a way around the Earth in space), stray (lost and without a home), phlegmatic (not excitable), estimated (guessed), failure (when a part of a machine is broken).
What other methods were discussed to send the first living creature into space?
LEARN 3000 WORDS with DAYS IN LEVELS
Days in Levels is designed to teach you 3000 words in English. Please follow the instructions
below.
How to improve your English with Days in Levels: 

Test
Do the test at Test Languages.
Go to your level. Go to Level 1 if you know 1-1000 words. Go to Level 2 if you know 1000-2000 words. Go to Level 3 if you know 2000-3000 words.

Reading
Read two new articles article at Days in Levels every day.
Read one previous article too and check if you remember all new words.

Listening
Listen to the new article and read the text at the same time.
Listen to the new article without reading the text.

Writing
Answer the question under the new article and write your answer in the comments.