The day the first animal orbited the Earth – level 1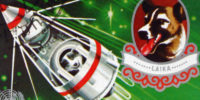 03-11-1957
In October 1957, the Soviet Union sends the first satellite into orbit named Sputnik 1. Then, Moscow wants to send the first animal into orbit. The government wants to send a dog.
It finds a dog in the streets of Moscow. The name of the dog is Laika. She is a very calm dog.
The day before the flight, one doctor takes Laika home. She plays with his children.
Then November 3, 1957, comes. Laika goes into orbit on board Sputnik 2.
Laika dies after 7 hours because there is a problem. The temperature in Sputnik 2 is very high.
Now, people know that an animal can live in orbit for some hours. In the next years, people start to prepare the flight for the first person. In 1961, Yuri Gagarin is the first person who goes into orbit.
Difficult words: into (in a direction to something where it stays), orbit (a way around the Earth in space), calm (relaxed and quiet), flight (a way in a plane or rocket).
What do you think were some of the ethical concerns that arose regarding sending a living creature into orbit?
LEARN 3000 WORDS with DAYS IN LEVELS
Days in Levels is designed to teach you 3000 words in English. Please follow the instructions
below.
How to improve your English with Days in Levels: 

Test
Do the test at Test Languages.
Go to your level. Go to Level 1 if you know 1-1000 words. Go to Level 2 if you know 1000-2000 words. Go to Level 3 if you know 2000-3000 words.

Reading
Read two new articles article at Days in Levels every day.
Read one previous article too and check if you remember all new words.

Listening
Listen to the new article and read the text at the same time.
Listen to the new article without reading the text.

Writing
Answer the question under the new article and write your answer in the comments.