The day the enemies met at Christmas – level 2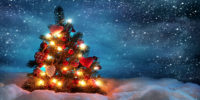 24-12-1914
In 1914, World War I started in Europe. The enemies were the Germans on one side and the French and the British on the other side. It was December 1914 and soldiers on both sides were fighting in cold weather. They shot at each other from trenches.
Then December 24 came. It's the day when German-speaking countries celebrate Christmas Day. On that day, the British soldiers heard a melody which they knew very well. The German soldiers were singing the song "Silent Night" in German. It was a song which the British soldiers also wanted to sing the next day to celebrate Christmas. The atmosphere started to change.
Candles and small Christmas trees appeared on the German side. Soldiers on both sides left their trenches and started to walk very carefully to each other. Then they met face to face.
The enemies who were trying to kill each other the weeks before were suddenly looking at each other from a close distance. They saw that people on the other side were like them. They felt the same feelings. They felt the same pain because they missed their families. They began to show each other photos of their families and gave food, tobacco, and alcohol.
In the following days, thousands of soldiers on both sides met again and again. They even played some football matches together.
However, after some days, this situation changed. The commanders got orders to stop making friends with the enemy. After some days, the fights started again and the war continued for three more years.
Difficult words: trench (a long hole in the ground used in wars), atmosphere (the feeling in a place), appear (to be seen), suddenly (quickly and surprisingly), following (next), however (but), commander (a leader of soldiers).
What were some of the consequences of this momentary ceasefire between enemies on the front lines during World War I?
LEARN 3000 WORDS with DAYS IN LEVELS
Days in Levels is designed to teach you 3000 words in English. Please follow the instructions
below.
How to improve your English with Days in Levels: 

Test
Do the test at Test Languages.
Go to your level. Go to Level 1 if you know 1-1000 words. Go to Level 2 if you know 1000-2000 words. Go to Level 3 if you know 2000-3000 words.

Reading
Read two new articles article at Days in Levels every day.
Read one previous article too and check if you remember all new words.

Listening
Listen to the new article and read the text at the same time.
Listen to the new article without reading the text.

Writing
Answer the question under the new article and write your answer in the comments.