The day the Empire State Building opened – level 1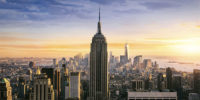 01-05-1931
It is 1930. People start to build the Empire State Building. 3,400 workers build the building. They are poor immigrants from Europe. They work in all types of weather. The work is very dangerous. They do this to make good money.
They work fast. They want to finish before May 1, 1931. They built 4 new floors every week. They finish the work on time.
The building is 381 meters high. It has 102 floors. It has 6,500 windows. It has 73 elevators. In 1931, it is the tallest building in the world.
Today, the building is a symbol of New York. Many people visit it every day. There are also many offices in the building. 20,000 people work there.
Difficult words: poor (not rich), type (one of many similar things), elevator (a big box which takes people to a higher floor).
How does the Empire State Building symbolise New York today?
LEARN 3000 WORDS with DAYS IN LEVELS
Days in Levels is designed to teach you 3000 words in English. Please follow the instructions
below.
How to improve your English with Days in Levels: 

Test
Do the test at Test Languages.
Go to your level. Go to Level 1 if you know 1-1000 words. Go to Level 2 if you know 1000-2000 words. Go to Level 3 if you know 2000-3000 words.

Reading
Read two new articles article at Days in Levels every day.
Read one previous article too and check if you remember all new words.

Listening
Listen to the new article and read the text at the same time.
Listen to the new article without reading the text.

Writing
Answer the question under the new article and write your answer in the comments.