The day the earthquake hit Haiti – level 3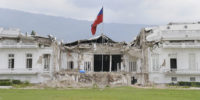 12-01-2010
For a long time, Haiti has long been one of the poorest countries in the world. Millions of Haitians live in extreme poverty, and more than half of the country doesn't have access to basic health care.
As if that wasn't enough, on January 12, 2010, one of the most devastating earthquakes in history hit the already impoverished country. Hundreds of thousands of people lost their lives and millions lost their homes. Frightened people ran out of buildings and tried to hide wherever they could, but there was basically nowhere to run.
The capital, Port-au-Prince, was hit the worst. It only took 60 seconds for the earthquake to actually level the city to the ground. The epicenter of the earthquake was located only 15 kilometers from the city, at a depth of only 10 kilometers.
As soon as the world learned of the disaster, rescuers and humanitarian workers immediately began to move to the scene of the tragedy.
Difficult words: impoverished (very poor), level (to make something flat), learned (got the information).
What have been some of the long-term impacts of the 2010 Haiti earthquake on the country?
LEARN 3000 WORDS with DAYS IN LEVELS
Days in Levels is designed to teach you 3000 words in English. Please follow the instructions
below.
How to improve your English with Days in Levels: 

Test
Do the test at Test Languages.
Go to your level. Go to Level 1 if you know 1-1000 words. Go to Level 2 if you know 1000-2000 words. Go to Level 3 if you know 2000-3000 words.

Reading
Read two new articles article at Days in Levels every day.
Read one previous article too and check if you remember all new words.

Listening
Listen to the new article and read the text at the same time.
Listen to the new article without reading the text.

Writing
Answer the question under the new article and write your answer in the comments.