The day the earthquake hit Haiti – level 1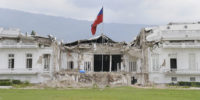 12-01-2010
Millions of people live in Haiti. Haiti is a poor country. Many people can't go to a doctor when they need to go.
In 2010, something bad happens. On January 12, a very big earthquake hits Haiti. Many people die. Many people are without their homes. People are very scared.
The situation in the capital is very bad. In a short time, many houses fall down. The earthquake happens only 15 kilometers from the capital.
After the earthquake, many people from other countries go to Haiti. They go to Haiti because they want to help people after the catastrophe.
Difficult words: without (with no), capital (a main city in the country), catastrophe (a disaster).
What ways can people around the world support recovery efforts in Haiti following the 2010 earthquake?
LEARN 3000 WORDS with DAYS IN LEVELS
Days in Levels is designed to teach you 3000 words in English. Please follow the instructions
below.
How to improve your English with Days in Levels: 

Test
Do the test at Test Languages.
Go to your level. Go to Level 1 if you know 1-1000 words. Go to Level 2 if you know 1000-2000 words. Go to Level 3 if you know 2000-3000 words.

Reading
Read two new articles article at Days in Levels every day.
Read one previous article too and check if you remember all new words.

Listening
Listen to the new article and read the text at the same time.
Listen to the new article without reading the text.

Writing
Answer the question under the new article and write your answer in the comments.