The day the Dalai Lama began an exile in India – level 1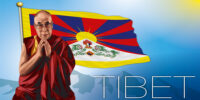 31-03-1959
In March 1959, the 14th Dalai Lama leaves his home in Tibet. He wants to go to India because it is not safe for him in Tibet.
During the journey to India, the Dalai Lama wears a uniform of a Chinese soldier. He wants to hide his identity.
His brother and a small group of friends travel with him. The Dalai Lama carries only a few things with him.
The weather is terrible. There are big snowstorms and strong winds. They often travel at night.
The Dalai Lama and his friends arrive in India on March 31. The Indian government gives them asylum.
Difficult words: identity (who you are), carry (to hold on your body), asylum (protection from another country).
What sacrifices did the Dalai Lama and his friends make in order to arrive safely in India?
LEARN 3000 WORDS with DAYS IN LEVELS
Days in Levels is designed to teach you 3000 words in English. Please follow the instructions
below.
How to improve your English with Days in Levels: 

Test
Do the test at Test Languages.
Go to your level. Go to Level 1 if you know 1-1000 words. Go to Level 2 if you know 1000-2000 words. Go to Level 3 if you know 2000-3000 words.

Reading
Read two new articles article at Days in Levels every day.
Read one previous article too and check if you remember all new words.

Listening
Listen to the new article and read the text at the same time.
Listen to the new article without reading the text.

Writing
Answer the question under the new article and write your answer in the comments.