The day the Cuban Missile Crisis started – level 3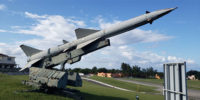 16-10-1962
In 1962, humanity is on the brink of nuclear war for 13 days. It is the most dramatic clash of the Soviets and Americans during the Cold War.
It's October 16 and the US president, John Kennedy, stares in disbelief at spy photos taken by an American plane 20km over Cuba. He sees a massive launch force under construction. He sees dozens of nuclear missiles.
The United States announces a naval blockade of Cuba. Its aim is to prevent more Soviet ships from arriving.
On October 25, representatives of the Soviet Union and the US meet for the first time at the United Nations. The Soviets are still not saying openly what is going on.
On October 27, President Kennedy announces a 48-hour ultimatum. He says, "Remove the rockets, or we'll remove them."
The Soviets propose that the missiles will be withdrawn in exchange for a promise not to attack Cuba and for the withdrawal of American missiles from Turkey and Italy.
The Americans agree.
Difficult words: on the brink of (close to), launch force (machines for sending missiles), blockade (when you stop vehicles), ultimatum (a demand before you do something), withdraw (to remove).
What was the long-term impact of the Cuban Missile Crisis on relations between the Soviet Union and the United States?
LEARN 3000 WORDS with DAYS IN LEVELS
Days in Levels is designed to teach you 3000 words in English. Please follow the instructions
below.
How to improve your English with Days in Levels: 

Test
Do the test at Test Languages.
Go to your level. Go to Level 1 if you know 1-1000 words. Go to Level 2 if you know 1000-2000 words. Go to Level 3 if you know 2000-3000 words.

Reading
Read two new articles article at Days in Levels every day.
Read one previous article too and check if you remember all new words.

Listening
Listen to the new article and read the text at the same time.
Listen to the new article without reading the text.

Writing
Answer the question under the new article and write your answer in the comments.