The day the Cuban Missile Crisis started – level 1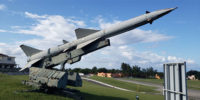 16-10-1962
It is 1962. Russia and America are not friends.
It is October 16. The US president, John Kennedy, looks at photos from an American plane. The photos are from Cuba. He doesn't believe what he sees. He sees many nuclear rockets.
The United States start to block the sea around Cuba. They want to stop more Russian ships which want to go to Cuba.
On October 25, people from Russia and America meet in New York. The people from Russia don't say everything about the situation.
On October 27, President Kennedy gives a 48-hour ultimatum. He says, "Remove the rockets, or we remove them."
People from Russia agree. They remove the rockets. However, the Americans must not fight with Cuba. They also must remove rockets from Turkey and Italy.
The Americans agree.
Difficult words: nuclear (a very powerful thing), ultimatum (information about the time when something must be finished), remove (to take away), agree (to say yes).
What do you think would have happened if the United States and Russia had not reached an agreement?
LEARN 3000 WORDS with DAYS IN LEVELS
Days in Levels is designed to teach you 3000 words in English. Please follow the instructions
below.
How to improve your English with Days in Levels: 

Test
Do the test at Test Languages.
Go to your level. Go to Level 1 if you know 1-1000 words. Go to Level 2 if you know 1000-2000 words. Go to Level 3 if you know 2000-3000 words.

Reading
Read two new articles article at Days in Levels every day.
Read one previous article too and check if you remember all new words.

Listening
Listen to the new article and read the text at the same time.
Listen to the new article without reading the text.

Writing
Answer the question under the new article and write your answer in the comments.