The day the construction of the Tower of Pisa started – level 1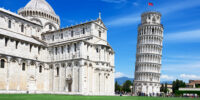 09-08-1173
The Tower of Pisa stands in Italy. People start to build the tower on August 9, 1173. They build the tower next to a cathedral. The tower is on soft ground. When people build the third floor, the tower starts to lean.
The tower leans more and more over the centuries. People want to reduce its lean. They work on the tower from 1990 to 2001. Now, the tower doesn't lean as much.
The Tower of Pisa has eight floors. It is made of white marble. It is 56 meters tall.
Difficult words: cathedral (a big church), lean (not to be vertical), century (100 years), reduce (to make smaller), marble (beautiful hard rock).
What engineering techniques have been used since 2001 to reduce the lean of the Tower of Pisa?
LEARN 3000 WORDS with DAYS IN LEVELS
Days in Levels is designed to teach you 3000 words in English. Please follow the instructions
below.
How to improve your English with Days in Levels: 

Test
Do the test at Test Languages.
Go to your level. Go to Level 1 if you know 1-1000 words. Go to Level 2 if you know 1000-2000 words. Go to Level 3 if you know 2000-3000 words.

Reading
Read two new articles article at Days in Levels every day.
Read one previous article too and check if you remember all new words.

Listening
Listen to the new article and read the text at the same time.
Listen to the new article without reading the text.

Writing
Answer the question under the new article and write your answer in the comments.