The day the construction of the Three Gorges Dam began – level 3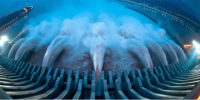 14-12-1994
The Yangtze River in China is the third longest river in the world. It springs from glaciers in northern Tibet, and the water has to travel more than 6,000 kilometers before it enters the East China Sea. Millions of people depend on this great river.
The decision to build the Three Gorges Dam is made because electricity for a growing industry is needed. There is also the effort to prove that China can build the largest multi-purpose waterworks in the world.
The construction requires the flooding of more than 150 cities and 13,000 villages. Altogether, almost 2 million people have to leave their homes.
Despite significant protests in China, the construction begins on December 14, 1994. The construction is divided into stages, each lasting several years. The whole construction takes almost 17 years and involves 250,000 people.
When the dam is finished in 2012, it's 185 meters high and 2,300 meters long. It's the largest dam in the world.
Difficult words: spring (to start), altogether (completely), despite (without regard to), stage (a phase), last (to take time).
What environmental risks were posed by the construction of the Three Gorges Dam?
LEARN 3000 WORDS with DAYS IN LEVELS
Days in Levels is designed to teach you 3000 words in English. Please follow the instructions
below.
How to improve your English with Days in Levels: 

Test
Do the test at Test Languages.
Go to your level. Go to Level 1 if you know 1-1000 words. Go to Level 2 if you know 1000-2000 words. Go to Level 3 if you know 2000-3000 words.

Reading
Read two new articles article at Days in Levels every day.
Read one previous article too and check if you remember all new words.

Listening
Listen to the new article and read the text at the same time.
Listen to the new article without reading the text.

Writing
Answer the question under the new article and write your answer in the comments.