The day the construction of Hoover Dam began – level 1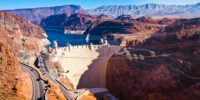 07-07-1930
On July 7, 1930, the construction of the Hoover Dam starts. The dam is on the Colorado River, between the states of Arizona and Nevada.
The construction of the dam is a big project. Thousands of workers work on it. The dam is finished in five years.
The construction of the dam is dangerous. One hundred people die during the work.
The dam is made of concrete. It is 221 meters tall. It is one of the tallest concrete dams in the world.
Difficult words: dam (a big wall which people build to block water in a river), concrete (very hard building material).
What are some of the major benefits that the Hoover Dam has brought to the region?
LEARN 3000 WORDS with DAYS IN LEVELS
Days in Levels is designed to teach you 3000 words in English. Please follow the instructions
below.
How to improve your English with Days in Levels: 

Test
Do the test at Test Languages.
Go to your level. Go to Level 1 if you know 1-1000 words. Go to Level 2 if you know 1000-2000 words. Go to Level 3 if you know 2000-3000 words.

Reading
Read two new articles article at Days in Levels every day.
Read one previous article too and check if you remember all new words.

Listening
Listen to the new article and read the text at the same time.
Listen to the new article without reading the text.

Writing
Answer the question under the new article and write your answer in the comments.