The day the construction of Big Ben began – level 2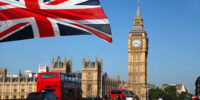 28-09-1843
Big Ben is the nickname for a big bell. The bell is in a tower in London and weighs over 13 tons.
However, when people speak about Big Ben, they often mean not only the bell but the whole tower which has four big clocks on it.
The tower's construction began on September 28, 1843. It was completed in 1859. The tower is 96 meters tall. It is a famous structure in London.
In 2012, the clock tower was officially renamed the Elizabeth Tower in honor of Queen Elizabeth II.
Difficult words: nickname (not an official name), honor (respect).
What is the original name of the clock tower, before it was officially renamed to the Elizabeth Tower?
LEARN 3000 WORDS with DAYS IN LEVELS
Days in Levels is designed to teach you 3000 words in English. Please follow the instructions
below.
How to improve your English with Days in Levels: 

Test
Do the test at Test Languages.
Go to your level. Go to Level 1 if you know 1-1000 words. Go to Level 2 if you know 1000-2000 words. Go to Level 3 if you know 2000-3000 words.

Reading
Read two new articles article at Days in Levels every day.
Read one previous article too and check if you remember all new words.

Listening
Listen to the new article and read the text at the same time.
Listen to the new article without reading the text.

Writing
Answer the question under the new article and write your answer in the comments.