The day the car was faster than the speed of sound – level 2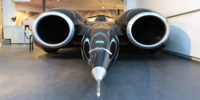 15-10-1997
People are always fascinated by speed. Thanks to the technological progress at the beginning of the 20th century, people can enjoy speed more and more. They try to go faster and faster.
The first registered record is from 1898 when the driver reaches a speed of 63 km/h. Then new records are coming very fast. In 1929, the speed of 372 km/h is achieved.
In 1965, when the record cars are no longer similar to regular cars, American Craig Breedlove moves the record to 966 km/h. At that moment, people are waiting for only one thing: who can go faster than the speed of sound?
On October 15, 1997, pilot Andy Green sits in a machine which weighs 10 tons, has two big engines, and consumes 18 liters per second.
He starts his car. The speed is passing 1000 km/h and still going up. Everybody is waiting for the boom, which means that the speed of sound was achieved. Then the boom comes. Everybody is happy. He reaches a speed of 1228 km/h.
Difficult words: century (100 years), achieve (to get to something successfully), weigh (how heavy is something), consume (to use something to make energy), boom (a strong sound).
What did people have to overcome to go faster than the speed of sound?
LEARN 3000 WORDS with DAYS IN LEVELS
Days in Levels is designed to teach you 3000 words in English. Please follow the instructions
below.
How to improve your English with Days in Levels: 

Test
Do the test at Test Languages.
Go to your level. Go to Level 1 if you know 1-1000 words. Go to Level 2 if you know 1000-2000 words. Go to Level 3 if you know 2000-3000 words.

Reading
Read two new articles article at Days in Levels every day.
Read one previous article too and check if you remember all new words.

Listening
Listen to the new article and read the text at the same time.
Listen to the new article without reading the text.

Writing
Answer the question under the new article and write your answer in the comments.