The day the car for normal people was made – level 3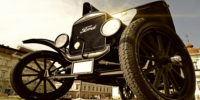 01-10-1908
It is the year 1908, almost a quarter of a century since the German designer Karl Benz introduced the world's first car.
Despite this, only wealthy people or car racers can afford to own a car. However, all of that is about to change right now.
It's Thursday, October 1, 1908, and Henry Ford is launching his Ford Model T. 35-year-old American businessman Henry Ford has long been obsessed with the idea that almost everyone would have a car one day.
The Ford T is cheap, costing only $850 and in some time the price goes down to even $300. That's the money a regular worker at a Ford factory makes in just 3 months.
By the end of its production in 1927, an incredible 15 million units of this model had been sold.
Difficult words: quarter (1/4), despite (opposite to), can afford (to have enough money), launch (to start), be obsessed (to think about something all the time).
What do you think made the Ford Model T such a success?
LEARN 3000 WORDS with DAYS IN LEVELS
Days in Levels is designed to teach you 3000 words in English. Please follow the instructions
below.
How to improve your English with Days in Levels: 

Test
Do the test at Test Languages.
Go to your level. Go to Level 1 if you know 1-1000 words. Go to Level 2 if you know 1000-2000 words. Go to Level 3 if you know 2000-3000 words.

Reading
Read two new articles article at Days in Levels every day.
Read one previous article too and check if you remember all new words.

Listening
Listen to the new article and read the text at the same time.
Listen to the new article without reading the text.

Writing
Answer the question under the new article and write your answer in the comments.