The day the car for normal people was made – level 1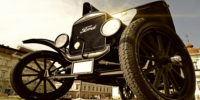 01-10-1908
It is the year 1908. It is twenty-three years after Karl Benz makes his first car in Germany. After this long time, only very rich people can buy a car. However, a big change is coming.
It's Thursday, October 1, 1908. Henry Ford makes his Ford Model T. Henry Ford is 35 years old. He is an American businessman. He has a big dream. He wants to make a car for normal people. Now, his dream is a reality.
The Ford T is cheap. It costs only $850. After some time the price goes down to $300. A normal worker at a Ford factory makes this money in 3 months.
The production of this car stops in 1927. It is a very popular car. People buy 15 million types of this car.
Difficult words: reality (the real situation), dream (an idea of something that you want to do), cost (how much you pay).
What impact has Henry Ford's invention had on the automobile industry and society as a whole?
LEARN 3000 WORDS with DAYS IN LEVELS
Days in Levels is designed to teach you 3000 words in English. Please follow the instructions
below.
How to improve your English with Days in Levels: 

Test
Do the test at Test Languages.
Go to your level. Go to Level 1 if you know 1-1000 words. Go to Level 2 if you know 1000-2000 words. Go to Level 3 if you know 2000-3000 words.

Reading
Read two new articles article at Days in Levels every day.
Read one previous article too and check if you remember all new words.

Listening
Listen to the new article and read the text at the same time.
Listen to the new article without reading the text.

Writing
Answer the question under the new article and write your answer in the comments.