The day the Brooklyn Bridge opened – level 2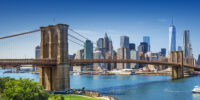 24-05-1883
On May 24, 1883, the Brooklyn Bridge which connects Manhattan and Brooklyn in New York was opened to the public.
The construction of the Brooklyn Bridge began in 1869 and took 14 years to complete.
The construction of the bridge was difficult because workers had to dig deep into the riverbed to fix the bridge's two massive towers.
Twenty-seven workers lost their lives during the construction.
The Brooklyn Bridge is 25 meters wide and 1833 meters long.
Six days after the Brooklyn Bridge opened, a rumor spread that the bridge was going to collapse. That caused panic on the bridge and many people were injured in the chaos which followed. However, the bridge was perfectly safe and stayed open for many years.
Difficult words: riverbed (the channel in which a river flows), rumor (unofficial information which can but doesn't have to be true), chaos (a situation in which nothing is organized).
What is the significance of the Brooklyn Bridge to the people of New York City?
LEARN 3000 WORDS with DAYS IN LEVELS
Days in Levels is designed to teach you 3000 words in English. Please follow the instructions
below.
How to improve your English with Days in Levels: 

Test
Do the test at Test Languages.
Go to your level. Go to Level 1 if you know 1-1000 words. Go to Level 2 if you know 1000-2000 words. Go to Level 3 if you know 2000-3000 words.

Reading
Read two new articles article at Days in Levels every day.
Read one previous article too and check if you remember all new words.

Listening
Listen to the new article and read the text at the same time.
Listen to the new article without reading the text.

Writing
Answer the question under the new article and write your answer in the comments.