The day the bombing of London started – level 1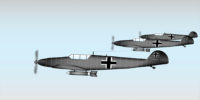 07-09-1940
In August 1940, Germany controls many countries in Western Europe. Germany wants to control Great Britain, too.
On September 7, 1940, Germany starts to bomb London. The British send their children from London to smaller towns. The bombs destroy many houses. People in London hide in underground stations.
The attacks continue for 57 days. 20,000 people die. People in London are strong. They never give up.
The war continues. The British are stronger than the Germans. The British win the war.
Difficult words: destroy (to break very much), hide (to go to a place where people can't see you), give up (to stop the fight because you are losing).
How did the courage and determination of Londoners help Britain win the war?
LEARN 3000 WORDS with DAYS IN LEVELS
Days in Levels is designed to teach you 3000 words in English. Please follow the instructions
below.
How to improve your English with Days in Levels: 

Test
Do the test at Test Languages.
Go to your level. Go to Level 1 if you know 1-1000 words. Go to Level 2 if you know 1000-2000 words. Go to Level 3 if you know 2000-3000 words.

Reading
Read two new articles article at Days in Levels every day.
Read one previous article too and check if you remember all new words.

Listening
Listen to the new article and read the text at the same time.
Listen to the new article without reading the text.

Writing
Answer the question under the new article and write your answer in the comments.