The day the biggest naval battle ended – level 3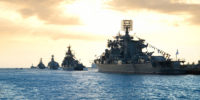 26-10-1944
It is the largest naval battle of World War II in which 370 ships, 1,500 aircraft, and 200,000 sailors take part. It is a battle of the Philippine island of Leyte.
In December 1941, Japan invades Pearl Harbor without warning and occupies the North Pacific. The United States enters the war and has to fight with the Japanese for every strategic island.
In October 1944, Americans want to get control over the Philippines. Leyte is chosen as the site of the invasion. Gradually, 170,000 American soldiers land there. The Japanese don't want to lose the Philippines. They are ready to fight for them. They send many of their ships into this area, including two of the biggest ships in history of war.
It's October 23, 1944 and the fight is starting. The first ships are seen by American submarines and small planes. The Americans start to attack them.
On October 25, it appears that the battle is over and the Americans have won. However, the Japanese don't give up and with a good tactical maneuver, they manage to confuse the Americans.
On October 26, 1944, they are ready to fight again. At Leyte Island, missiles begin to hit the surprised Americans from behind the horizon. They can't see any ship because the Japanese shoot from a huge battleship that has cannons with a range of 40 km.
The Americans must quickly come up with a plan. From the plane carriers, all the planes they have at their disposal start the counterattack. They also attack from their ships. They don't have a big chance to succeed but to their surprise, the Japanese turn their ships around and go away. The Pacific Ocean is now under American control.
Difficult words: naval (connected to the sea), occupy (to take over)site (a place), missile (a big bullet), range (the distance over which a weapon can hit), come up with (to have a new idea or plan), carrier (a ship that carries something).
What strategy did the Americans use to achieve victory in the Battle of Leyte?
LEARN 3000 WORDS with DAYS IN LEVELS
Days in Levels is designed to teach you 3000 words in English. Please follow the instructions
below.
How to improve your English with Days in Levels: 

Test
Do the test at Test Languages.
Go to your level. Go to Level 1 if you know 1-1000 words. Go to Level 2 if you know 1000-2000 words. Go to Level 3 if you know 2000-3000 words.

Reading
Read two new articles article at Days in Levels every day.
Read one previous article too and check if you remember all new words.

Listening
Listen to the new article and read the text at the same time.
Listen to the new article without reading the text.

Writing
Answer the question under the new article and write your answer in the comments.