The day the biggest diamond was found – level 1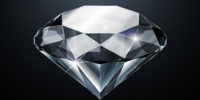 25-01-1905
Africa is a place where people can find big diamonds. Something very special happens on January 25, 1905. It happens at a mine in South Africa.
It is a normal day at the mine. People work 6 meters underground. One man sees something very shiny in the wall. It is the biggest diamond in the world. It is 0.6 kilograms heavy.
People send this diamond to England. They give the diamond to the king of Britain. It is a present.
People want to cut the diamond when it is in London. It is a difficult job. Only a good gem cutter can do it.
The gem cutter studies the diamond for six months. Then he starts his work. After a lot of work, there are nine bigger diamonds and 100 smaller diamonds. They are all made from the original diamond. These diamonds are very expensive.
Difficult words: diamond (a beautiful clear stone), mine (a deep hole in the ground where people find things like gold, silver, or diamonds), shiny (full of light), gem cutter (a person who cuts diamonds or stones).
What is the name of the biggest diamond found in South Africa in 1905?
LEARN 3000 WORDS with DAYS IN LEVELS
Days in Levels is designed to teach you 3000 words in English. Please follow the instructions
below.
How to improve your English with Days in Levels: 

Test
Do the test at Test Languages.
Go to your level. Go to Level 1 if you know 1-1000 words. Go to Level 2 if you know 1000-2000 words. Go to Level 3 if you know 2000-3000 words.

Reading
Read two new articles article at Days in Levels every day.
Read one previous article too and check if you remember all new words.

Listening
Listen to the new article and read the text at the same time.
Listen to the new article without reading the text.

Writing
Answer the question under the new article and write your answer in the comments.