The day the bicycle was invented – level 1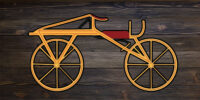 12-06-1817
The first bicycle is made in Germany on June 12, 1817. Baron Karl von Drais makes this bicycle.
The first bicycle has no pedals. The riders must touch the ground with their feet if they want to move. The bicycle can travel at a speed of 13 km per hour.
The first bicycle is popular with rich Europeans. They like the bicycle because it is fun.
Difficult words: pedal (a part of a bicycle which you push with your feet), rider (a person who travels on a bicycle).
What other early advancements in transportation technology were popular among wealthy Europeans at the time of Baron Karl von Drais' invention?
LEARN 3000 WORDS with DAYS IN LEVELS
Days in Levels is designed to teach you 3000 words in English. Please follow the instructions
below.
How to improve your English with Days in Levels: 

Test
Do the test at Test Languages.
Go to your level. Go to Level 1 if you know 1-1000 words. Go to Level 2 if you know 1000-2000 words. Go to Level 3 if you know 2000-3000 words.

Reading
Read two new articles article at Days in Levels every day.
Read one previous article too and check if you remember all new words.

Listening
Listen to the new article and read the text at the same time.
Listen to the new article without reading the text.

Writing
Answer the question under the new article and write your answer in the comments.