The day the Battle of Mogadishu began – level 1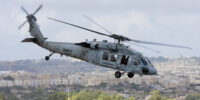 03-10-1993
Mogadishu is in Somalia. On October 3rd, 1993, the Battle of Mogadishu starts. In the beginning, the US soldiers want to catch two Somali soldiers. They want to do it fast, but soon they see that it is not easy. A big battle starts. The battle is two days long.
In the battle, two US helicopters crash. The US soldiers want to save the survivors of the crashes.
After a long fight, the survivors are safe but a lot of soldiers die. There are 18 American soldiers dead and 73 injured. There are 400 Somali soldiers dead and a thousand injured.
Difficult words: soldier (a person in the army), crash (to go down and hit the ground), survivor (a person who lives after an accident), injured (when you are injured, a part of your body is broken).
What were the long-term consequences of the Battle of Mogadishu?
LEARN 3000 WORDS with DAYS IN LEVELS
Days in Levels is designed to teach you 3000 words in English. Please follow the instructions
below.
How to improve your English with Days in Levels: 

Test
Do the test at Test Languages.
Go to your level. Go to Level 1 if you know 1-1000 words. Go to Level 2 if you know 1000-2000 words. Go to Level 3 if you know 2000-3000 words.

Reading
Read two new articles article at Days in Levels every day.
Read one previous article too and check if you remember all new words.

Listening
Listen to the new article and read the text at the same time.
Listen to the new article without reading the text.

Writing
Answer the question under the new article and write your answer in the comments.