The day the Battle of Midway began – level 3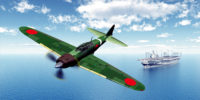 03-06-1942
At the turn of 1941 and 1942, the US had difficulty recovering from a surprise Japanese attack on Pearl Harbor. The Japanese had achieved overwhelming military superiority, and they aimed for getting control over the entire Pacific Ocean.
Japan possessed 250 aircraft and four aircraft carriers that could be sent into combat.
However, US intelligence broke a secret Japanese naval code and they were able to determine the date and location of a planned attack on the Midway Atoll. With an area of only 6 square kilometers and located 4,000 kilometers off the Japanese coast and 5,000 kilometers off the US coast, Midway was part of Japan's defensive strategy, and defeating the US would ensure Japanese dominance in the Pacific Ocean.
The attack began on June 3, 1942, when Japan occupied two Aleutian Islands. On June 4, Japan took off against the Midway Islands.
Difficult words: superiority (an advantage over an enemy), combat (a fight or conflict in a war), dominance (power and influence over others).
What strategies did the US use to turn the tide of the Battle of Midway and achieve a decisive victory?
LEARN 3000 WORDS with DAYS IN LEVELS
Days in Levels is designed to teach you 3000 words in English. Please follow the instructions
below.
How to improve your English with Days in Levels: 

Test
Do the test at Test Languages.
Go to your level. Go to Level 1 if you know 1-1000 words. Go to Level 2 if you know 1000-2000 words. Go to Level 3 if you know 2000-3000 words.

Reading
Read two new articles article at Days in Levels every day.
Read one previous article too and check if you remember all new words.

Listening
Listen to the new article and read the text at the same time.
Listen to the new article without reading the text.

Writing
Answer the question under the new article and write your answer in the comments.