The day the Battle of Midway began – level 1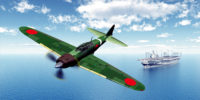 03-06-1942
It is World War II. Japan attacks Pearl Harbor on December 7, 1941. It is a hard time for the US. Americans do not know that the attack will happen.
Japan has many planes and ships in the Pacific Ocean. The country wants to control all of the Pacific Ocean.
Japan plans to attack the Midway Atoll. The Midway Atoll is a small island. It is in the middle of the Pacific Ocean. It is very important for Japan. It will give Japan full control of the Pacific.
Then the US reads a secret Japanese message. The US knows about Japanese plans.
Japan attacks two Aleutian Islands on June 3, 1942. The Battle of Midway begins the next day on June 4, 1942.
Difficult words: control (to have full power), secret (something that people do not know about), battle (a fight in a war).
What happened in the Battle of Midway?
LEARN 3000 WORDS with DAYS IN LEVELS
Days in Levels is designed to teach you 3000 words in English. Please follow the instructions
below.
How to improve your English with Days in Levels: 

Test
Do the test at Test Languages.
Go to your level. Go to Level 1 if you know 1-1000 words. Go to Level 2 if you know 1000-2000 words. Go to Level 3 if you know 2000-3000 words.

Reading
Read two new articles article at Days in Levels every day.
Read one previous article too and check if you remember all new words.

Listening
Listen to the new article and read the text at the same time.
Listen to the new article without reading the text.

Writing
Answer the question under the new article and write your answer in the comments.