The day the attack on Pearl Harbor started – level 3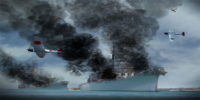 07-12-1941
It's December 1941. For 11 days, Japanese warships have been secretly sailing the Pacific Ocean towards Hawaii, which is 6,000 km away. There is a US naval base in Hawaii.
It's called Pearl Harbor and it's a popular place for American Marines as there are nice weather and beautiful beaches there. Americans think they are in a safe place in the middle of the Pacific Ocean.
On December 7, 1941, at 6 a.m., the Japanese aircraft carriers are only 400 km north of Hawaii, and they are ready for the attack.
At 7:55 a.m. the attack begins. The Japanese send 350 planes in two waves. They are surprised that there is no strong resistance from the Americans. All US airports around the base are destroyed. The Japanese also attack American warships with torpedoes. The ships are all sunk or damaged.
The whole attack takes only 90 minutes. The Japanese destroy 16 ships and over 350 American planes. Nearly 2,500 Americans are dead. The Japanese celebrate a victory. Immediately after the attack, the United States declare war on Japan and soon after also on Germany. The war that has been until that time a European war becomes a world war.
Difficult words: naval (related to the sea army), Marine (a soldier who serves on a ship), as (because), aircraft carrier (a warship that carries planes), wave (a large group or an amount of time), declare (to say something publicly).
What strategies do you think the US should have taken to protect Pearl Harbor from the Japanese attack?
LEARN 3000 WORDS with DAYS IN LEVELS
Days in Levels is designed to teach you 3000 words in English. Please follow the instructions
below.
How to improve your English with Days in Levels: 

Test
Do the test at Test Languages.
Go to your level. Go to Level 1 if you know 1-1000 words. Go to Level 2 if you know 1000-2000 words. Go to Level 3 if you know 2000-3000 words.

Reading
Read two new articles article at Days in Levels every day.
Read one previous article too and check if you remember all new words.

Listening
Listen to the new article and read the text at the same time.
Listen to the new article without reading the text.

Writing
Answer the question under the new article and write your answer in the comments.