The day Stanislav Petrov saved the world from the apocalypse – level 3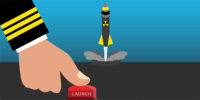 26-09-1983
Stanislav Petrov saved the world in 1983.
On September 26, 1983, Stanislav Petrov was on duty monitoring the Soviet Union's satellite system, which was designed to detect incoming nuclear missiles from the United States. At one moment, the satellite system incorrectly detected the launch of five missiles from the United States.
Despite the high-pressure situation, Petrov used his intuition and judgment to determine that the warning was likely a false alarm. He reasoned that if the US were to launch a nuclear strike, it would involve a much larger number of missiles, rather than just five.
Instead of reporting the alarm to his boss, Petrov decided to report it as a system malfunction.
If he had reported that the missiles were coming, a nuclear war between the US and the Soviet Union could have started. His decision saved the world from a potential nuclear apocalypse.
Difficult words: missile (a rocket which can explode), launch (a start), determine (to say what is true), likely (probably).
What other decisions do you think Stanislav Petrov could have made in this situation?
LEARN 3000 WORDS with DAYS IN LEVELS
Days in Levels is designed to teach you 3000 words in English. Please follow the instructions
below.
How to improve your English with Days in Levels: 

Test
Do the test at Test Languages.
Go to your level. Go to Level 1 if you know 1-1000 words. Go to Level 2 if you know 1000-2000 words. Go to Level 3 if you know 2000-3000 words.

Reading
Read two new articles article at Days in Levels every day.
Read one previous article too and check if you remember all new words.

Listening
Listen to the new article and read the text at the same time.
Listen to the new article without reading the text.

Writing
Answer the question under the new article and write your answer in the comments.