The day Russia sold Alaska to the United States – level 2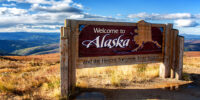 30-03-1867
Russians arrived in Alaska in 1741. The Russians were interested mainly in fur trade.
In the middle of the 19th century, the Russian government began to think about selling Alaska to the United States.
Russia needed money after losing a war in Europe.
Russia also feared that it would be difficult to defend Alaska in the event of war with Great Britain, which had a strong presence in the Pacific.
In 1867, the Russian government agreed to sell Alaska to the United States for $7.2 million. The deal was signed on March 30 of the same year.
The sale of Alaska was controversial at the time. Many Americans saw little value in the little populated, remote territory. Some argued that the US had overpaid for it.
However, the acquisition of Alaska proved to be a wise investment for the United States because the territory had a lot of gold, forests, and fish, which was good for the US in coming years.
Difficult words: controversial (when people think differently about one thing), acquisition (a moment when you buy something).
What motivated the Russian government to decide to sell Alaska to the United States in 1867?
LEARN 3000 WORDS with DAYS IN LEVELS
Days in Levels is designed to teach you 3000 words in English. Please follow the instructions
below.
How to improve your English with Days in Levels: 

Test
Do the test at Test Languages.
Go to your level. Go to Level 1 if you know 1-1000 words. Go to Level 2 if you know 1000-2000 words. Go to Level 3 if you know 2000-3000 words.

Reading
Read two new articles article at Days in Levels every day.
Read one previous article too and check if you remember all new words.

Listening
Listen to the new article and read the text at the same time.
Listen to the new article without reading the text.

Writing
Answer the question under the new article and write your answer in the comments.