The day Princess Diana died – level 2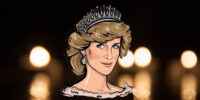 31-08-1997
Diana, Princess of Wales, was the first wife of Prince Charles. Diana and Charles's marriage wasn't happy. They divorce in 1996.
After the divorce, Diana continued her charity work. She lived more freely, and she met Dodi Fayed, the son of an Egyptian billionaire. The media continued to follow her wherever she went, but she looked happy.
Diana and Dodi decided to spend the last days of August 1997 in Paris. Shortly after midnight on August 31, they left a hotel. They were followed by a group of photographers.
Diana and Dodi told the driver to go fast. The car was going through the center of Paris at a speed of 105 kilometers per hour. Then, it hit a wall in one of the tunnels. Dodi and the driver were dead. Diana was fighting for her life, but she died shortly after the accident in hospital.
Difficult words: divorce (people are divorced when they end their marriage), charity (an organization which helps poor people), wherever (everywhere), looked (to be seen like).
What impact did Diana, Princess of Wales, have on the public and how did it shape future royal marriages?
LEARN 3000 WORDS with DAYS IN LEVELS
Days in Levels is designed to teach you 3000 words in English. Please follow the instructions
below.
How to improve your English with Days in Levels: 

Test
Do the test at Test Languages.
Go to your level. Go to Level 1 if you know 1-1000 words. Go to Level 2 if you know 1000-2000 words. Go to Level 3 if you know 2000-3000 words.

Reading
Read two new articles article at Days in Levels every day.
Read one previous article too and check if you remember all new words.

Listening
Listen to the new article and read the text at the same time.
Listen to the new article without reading the text.

Writing
Answer the question under the new article and write your answer in the comments.