The day President Kennedy was killed – level 2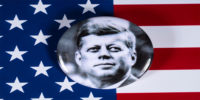 22-11-1963
On November 22, 1963, the weather was beautiful in Dallas, Texas, US. It was so hot that the US president, John F. Kennedy, could use an open-top limousine.
The president drove in his limousine through the city streets. Thousands of people came to see the president. At one moment, shots were fired. One hit the president in the neck and another in the head. The president was seriously injured. He was immediately taken to hospital where he died.
Lee Harvey Oswald was arrested 40 minutes after the shooting. He worked in a building from where the shooting took place. He supported the Cuban leader Castro and he lived for a long time in the Soviet Union. The police interviewed him for a long time, but he never confessed to the shooting.
Two days after the shooting, Oswald was taken from the police building to prison. A crowd of journalists was waiting for his arrival. There was a man who was hiding among them. His name was Jack Ruby. At one moment, Ruby took his revolver and shot Oswald in the stomach. Oswald was taken to hospital where he died from his injury.
Difficult words: limousine (a long, fancy car), fire (to shoot from a gun), arrest (to take to a police station), confess (to say to the police that you did something), crowd (a big group of people at one place).
What were the motives behind Jack Ruby's attack on Lee Harvey Oswald?
LEARN 3000 WORDS with DAYS IN LEVELS
Days in Levels is designed to teach you 3000 words in English. Please follow the instructions
below.
How to improve your English with Days in Levels: 

Test
Do the test at Test Languages.
Go to your level. Go to Level 1 if you know 1-1000 words. Go to Level 2 if you know 1000-2000 words. Go to Level 3 if you know 2000-3000 words.

Reading
Read two new articles article at Days in Levels every day.
Read one previous article too and check if you remember all new words.

Listening
Listen to the new article and read the text at the same time.
Listen to the new article without reading the text.

Writing
Answer the question under the new article and write your answer in the comments.