The day people saw the Earth and the Moon together – level 2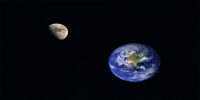 18-09-1977
Voyager 1 is a space probe that started its journey on September 5, 1977. The probe's goal was to fly to Jupiter and Saturn and then continue to interstellar space. People had big expectations of the mission. They expected to see its first big results in one year because that was the time that was necessary to travel to Jupiter.
However, the first big success of the mission came already after 13 days when Voyager 1 sent a picture of the Earth and the Moon together. It was the first time when both worlds were seen in one picture.
Difficult words: probe (a spaceship without people that travels through space), interstellar (between the stars in the sky), expectation (a hope that something good will happen).
What do you think are some of the implications of Voyager 1 sending the first picture of the Earth and the Moon together?
LEARN 3000 WORDS with DAYS IN LEVELS
Days in Levels is designed to teach you 3000 words in English. Please follow the instructions
below.
How to improve your English with Days in Levels: 

Test
Do the test at Test Languages.
Go to your level. Go to Level 1 if you know 1-1000 words. Go to Level 2 if you know 1000-2000 words. Go to Level 3 if you know 2000-3000 words.

Reading
Read two new articles article at Days in Levels every day.
Read one previous article too and check if you remember all new words.

Listening
Listen to the new article and read the text at the same time.
Listen to the new article without reading the text.

Writing
Answer the question under the new article and write your answer in the comments.