The day people saw the Earth and the Moon together – level 1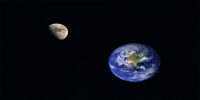 18-09-1977
Voyager 1 is a probe. The probe travels through space. The probe starts its way on September 5, 1977. The probe wants to fly to Jupiter. It takes one year to fly to Jupiter.
13 days after the start, the probe sends a picture to the Earth. It is a very special picture because the Earth and the Moon are in this picture together.
It is the first time when people can see both worlds in one picture.
Difficult words: probe (a spaceship which travels through space with no people on board), space (the area between stars and planets), both (two).
What do you think is the most impressive thing about the picture sent by Voyager 1?
LEARN 3000 WORDS with DAYS IN LEVELS
Days in Levels is designed to teach you 3000 words in English. Please follow the instructions
below.
How to improve your English with Days in Levels: 

Test
Do the test at Test Languages.
Go to your level. Go to Level 1 if you know 1-1000 words. Go to Level 2 if you know 1000-2000 words. Go to Level 3 if you know 2000-3000 words.

Reading
Read two new articles article at Days in Levels every day.
Read one previous article too and check if you remember all new words.

Listening
Listen to the new article and read the text at the same time.
Listen to the new article without reading the text.

Writing
Answer the question under the new article and write your answer in the comments.