The day people reached the deepest place on Earth – level 2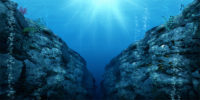 23-01-1960
At the beginning of 1960, two men were preparing for a journey to the deepest place on planet Earth. They were above the Mariana Trench in the Pacific Ocean. The media didn't know what they were planning. They wanted to go down to a depth of almost 11 kilometres in a small submarine.
It was something that nobody tried before. Nobody knew what was waiting at the bottom of the ocean and what the place really looked like.
On January 23, 1960, the sea over the Mariana Trench wasn't calm. However, Don Walsh and Jacques Picard got on board their submarine. The submarine was only a little bigger than a fridge. They started to go down.
At 150 metres, it started to be dark. They saw some big fish. At 1,600 metres, they saw a scary fish which they didn't recognize.
Five hours later, the submarine came to the sandy bottom of the Mariana Trench. Through the window, both men could see a 30-centimetre-long fish. It was clear that even in the deepest place on the planet, there was life.
Difficult words: Mariana Trench (the deepest place in the ocean), media (television and radio stations and newspapers), depth (the distance from top to bottom), look like (how people see something), even (surprisingly also).
What other undiscovered creatures might have been living in the depths of the Mariana Trench?
LEARN 3000 WORDS with DAYS IN LEVELS
Days in Levels is designed to teach you 3000 words in English. Please follow the instructions
below.
How to improve your English with Days in Levels: 

Test
Do the test at Test Languages.
Go to your level. Go to Level 1 if you know 1-1000 words. Go to Level 2 if you know 1000-2000 words. Go to Level 3 if you know 2000-3000 words.

Reading
Read two new articles article at Days in Levels every day.
Read one previous article too and check if you remember all new words.

Listening
Listen to the new article and read the text at the same time.
Listen to the new article without reading the text.

Writing
Answer the question under the new article and write your answer in the comments.