The day penicillin was discovered – level 1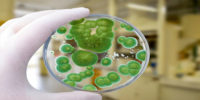 28-09-1928
Alexander Fleming is from Scotland. He wants to help people. He wants to kill bacteria that are in people's bodies.
In September 1928, Fleming returns to his laboratory after a holiday. He looks at his plates with bacteria. He sees that a blue-green mold is on one plate. The bacteria around the mold don't grow. It shows that mold kills the bacteria.
This information is fantastic. Fleming continues his work. Soon, he can make his mold. His mold can kill bacteria, too. It happens on September 28, 1928. He gives his mold a new name – penicillin. Penicillin is a very famous antibiotic.
In 1945, Fleming gets the Nobel Prize in Medicine.
Difficult words: bacteria (very small forms of life), plate (a small plate which people use in a laboratory for tests), mold (a very small mushroom which grows on old food or plants), famous (when many people know it), antibiotic (a thing which can destroy bacteria), Nobel Prize (a very famous prize).
How did Alexander Fleming discover penicillin?
LEARN 3000 WORDS with DAYS IN LEVELS
Days in Levels is designed to teach you 3000 words in English. Please follow the instructions
below.
How to improve your English with Days in Levels: 

Test
Do the test at Test Languages.
Go to your level. Go to Level 1 if you know 1-1000 words. Go to Level 2 if you know 1000-2000 words. Go to Level 3 if you know 2000-3000 words.

Reading
Read two new articles article at Days in Levels every day.
Read one previous article too and check if you remember all new words.

Listening
Listen to the new article and read the text at the same time.
Listen to the new article without reading the text.

Writing
Answer the question under the new article and write your answer in the comments.