The day Ötzi was found – level 3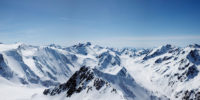 19-09-1991
In the warm autumn afternoon of 1991, two German tourists, Helmut and Erika Simon, walked off the path on the ridge in the Ötztal Alps, on the Austrian-Italian border. They spotted a body that they believed was of a recently deceased mountaineer. The body was extracted from ice and transported to the office of the medical examiner in Innsbruck, Austria, together with other objects that had been found.
The body was a mummy; the mummy got the nickname Ötzi, and currently, he is Europe's oldest known natural human mummy. He is believed to be around 5,300 years old and he probably lived in the Copper Age. Ötzi's body was covered in 61 tattoos, and among his possessions were berries, baskets, a copper ax, and other instruments that seemed to be a fire lighting kit.
In 2004, a court confirmed that the Simons had discovered Ötzi and they were entitled to a finder's fee.
Difficult words: ridge (a long, narrow top of a hill or mountain), decease (to die), finder's fee (a fee paid to a person who finds something valuable).
What do you think are the benefits and implications of Ötzi's discoveries for humans living today?
LEARN 3000 WORDS with DAYS IN LEVELS
Days in Levels is designed to teach you 3000 words in English. Please follow the instructions
below.
How to improve your English with Days in Levels: 

Test
Do the test at Test Languages.
Go to your level. Go to Level 1 if you know 1-1000 words. Go to Level 2 if you know 1000-2000 words. Go to Level 3 if you know 2000-3000 words.

Reading
Read two new articles article at Days in Levels every day.
Read one previous article too and check if you remember all new words.

Listening
Listen to the new article and read the text at the same time.
Listen to the new article without reading the text.

Writing
Answer the question under the new article and write your answer in the comments.