The day Ötzi was found – level 2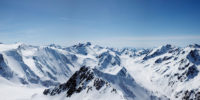 19-09-1991
In autumn 1991, two German tourists were hiking in the Ötztal Alps, on the Austrian-Italian border. They decided to take a shortcut and they walked off the path.
Suddenly, they saw a body in the ice, and they thought it was a dead mountaineer. Local authorities took the body out and transported it to Innsbruck, Austria.
Experts found out that the dead body was more than 5,000 years old. It was the oldest natural mummy in Europe and experts called it Ötzi. Ötzi was 160 centimeters tall and he weighed about 50 kilograms. He had 61 tattoos on his skin.
In 2008, a court decided that the tourists who found Ötzi would get a reward of 150,000 euros.
Difficult words: shortcut (a way that is shorter than the one which people usually take), mountaineer (a person who climbs mountains for sport), mummy (a dead body which is in a good state).
What do you think the benefits of finding Ötzi were to scientists, or to the general public?
LEARN 3000 WORDS with DAYS IN LEVELS
Days in Levels is designed to teach you 3000 words in English. Please follow the instructions
below.
How to improve your English with Days in Levels: 

Test
Do the test at Test Languages.
Go to your level. Go to Level 1 if you know 1-1000 words. Go to Level 2 if you know 1000-2000 words. Go to Level 3 if you know 2000-3000 words.

Reading
Read two new articles article at Days in Levels every day.
Read one previous article too and check if you remember all new words.

Listening
Listen to the new article and read the text at the same time.
Listen to the new article without reading the text.

Writing
Answer the question under the new article and write your answer in the comments.