The day Osama bin Laden died – level 3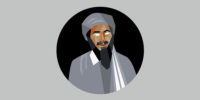 02-05-2011
Osama bin Laden was born in Saudi Arabia into a wealthy family, and he attended prestigious schools.
In the 1980s, he went to Afghanistan where he joined the Muslims fighting the Soviet invasion. Shortly afterwards, he also founded the Al-Qaeda organization.
When American soldiers were deployed in Saudi Arabia during the Gulf War, bin Laden considered it an occupation of sacred ground.
In 1996, bin Laden declared war against the United States. He called upon people to kill the Americans. A series of terrorist attacks followed.
When the New York attacks took place on September 11, 2001, the Americans chose the capture of Osama bin Laden to be one of their targets. However, they didn't succeed for many years.
In 2010, CIA agents found out that Osama bin Laden was hiding in one of the houses in Pakistan. The house was very well guarded. American soldiers practiced attacking the guarded house for several weeks.
On May 2, 2011, specially trained American soldiers attacked the house. Osama bin Laden was killed in the attack.
Difficult words: prestigious (one of the best), deploy (to send a soldier to someplace), sacred (connected to a god), call upon (to ask officially), capture (when you catch somebody).
What did Osama bin Laden hope to gain by declaring war on the United States in 1996?
LEARN 3000 WORDS with DAYS IN LEVELS
Days in Levels is designed to teach you 3000 words in English. Please follow the instructions
below.
How to improve your English with Days in Levels: 

Test
Do the test at Test Languages.
Go to your level. Go to Level 1 if you know 1-1000 words. Go to Level 2 if you know 1000-2000 words. Go to Level 3 if you know 2000-3000 words.

Reading
Read two new articles article at Days in Levels every day.
Read one previous article too and check if you remember all new words.

Listening
Listen to the new article and read the text at the same time.
Listen to the new article without reading the text.

Writing
Answer the question under the new article and write your answer in the comments.