The day of the United States Declaration of Independence – level 2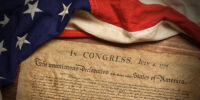 04-07-1776
The United States Declaration of Independence is a special document from July 4, 1776.
The document was mainly written by Thomas Jefferson.
The Declaration of Independence said that the thirteen American colonies thought about themselves as independent states and were no longer part of the British Empire.
The Declaration of Independence was signed by 56 American leaders.
There were 200 copies of the Declaration printed, which were distributed and publicly read throughout the colonies in the following weeks.
Difficult words: declaration (an official statement), distribute (to send to people), throughout (everywhere).
What was the significance of the Declaration of Independence to the American people?
LEARN 3000 WORDS with DAYS IN LEVELS
Days in Levels is designed to teach you 3000 words in English. Please follow the instructions
below.
How to improve your English with Days in Levels: 

Test
Do the test at Test Languages.
Go to your level. Go to Level 1 if you know 1-1000 words. Go to Level 2 if you know 1000-2000 words. Go to Level 3 if you know 2000-3000 words.

Reading
Read two new articles article at Days in Levels every day.
Read one previous article too and check if you remember all new words.

Listening
Listen to the new article and read the text at the same time.
Listen to the new article without reading the text.

Writing
Answer the question under the new article and write your answer in the comments.