The day of the tsunami in the Indian Ocean – level 3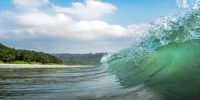 26-12-2004
It was Sunday morning, on December 26, 2004. The beaches in Indonesia, Thailand, Sri Lanka, and other places began to fill with people. Tens of thousands of people spent their dream holiday there.
On the west coast of Sumatra, at a depth of 30 kilometers below the earth's surface, three continental plates collided. There was an enormous earthquake under the Indian Ocean. The sea floor was pushed up and millions of tons of water were sent into motion.
The water rushed at a speed of 800 kilometers per hour. In some places, the tsunami was 30 meters high. The tsunami came to the beaches quickly and unexpectedly. Many people had no time to run away to a higher ground. In some places, the tsunami went 2 kilometers inland.
The tsunami destroyed thousands of miles of the coastline. It claimed 220,000 lives in 14 countries and left 1.5 million people homeless.
Difficult words: depth (the distance from the top to the bottom), plate (a big sheet of rock that forms the surface of the Earth), motion (movement), rush (to move quickly), coastline (the place where the land meets the sea), claim (to take).
What are some of the long-term consequences of the 2004 Indian Ocean Tsunami?
LEARN 3000 WORDS with DAYS IN LEVELS
Days in Levels is designed to teach you 3000 words in English. Please follow the instructions
below.
How to improve your English with Days in Levels: 

Test
Do the test at Test Languages.
Go to your level. Go to Level 1 if you know 1-1000 words. Go to Level 2 if you know 1000-2000 words. Go to Level 3 if you know 2000-3000 words.

Reading
Read two new articles article at Days in Levels every day.
Read one previous article too and check if you remember all new words.

Listening
Listen to the new article and read the text at the same time.
Listen to the new article without reading the text.

Writing
Answer the question under the new article and write your answer in the comments.