The day of the tragedy in Armero – level 2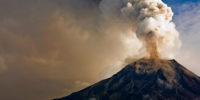 13-11-1985
Nevado del Ruiz is a volcano in Columbia.
On November 13, 1985, at 9:09 p.m., the volcano erupts. It sends a lot of dust into the atmosphere. The eruption also creates a lot of lava. The lava starts to melt snow on the top of the volcano. Water from the snow starts to mix with earth and small stones. All of these materials make lahars which start to go down river valleys on the volcano's sides.
They go down at a speed of 50 kilometers per hour. They are destroying everything in their way. One of the lahars is going to the town of Armero.
It's a quiet night and people of Armero don't know about the coming danger. Many of them are in their houses.
At 11:30 p.m., the first lahar hits. Then, more lahars come. They are traveling at about six meters per second. They are up to 30 meters deep. The lahars destroy Armero. More than 22,000 people are killed.
Difficult words: atmosphere (the air around a place), erupt (to explode), lava (hot liquid rock), melt (to change from ice to water), lahar (a river of mud which goes down from a volcano), valley (a land between two mountains).
What were some of the effects of the lahars other than death and destruction in Armero?
LEARN 3000 WORDS with DAYS IN LEVELS
Days in Levels is designed to teach you 3000 words in English. Please follow the instructions
below.
How to improve your English with Days in Levels: 

Test
Do the test at Test Languages.
Go to your level. Go to Level 1 if you know 1-1000 words. Go to Level 2 if you know 1000-2000 words. Go to Level 3 if you know 2000-3000 words.

Reading
Read two new articles article at Days in Levels every day.
Read one previous article too and check if you remember all new words.

Listening
Listen to the new article and read the text at the same time.
Listen to the new article without reading the text.

Writing
Answer the question under the new article and write your answer in the comments.