The day of the Tibetan uprising – level 3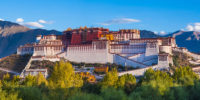 10-03-1959
In 1951, Tibet became part of China. However, it had its own autonomy and a government based in Lhasa, the capital of Tibet. The Dalai Lama was the leader of Tibet.
In the coming years, step by step, the Chinese began to occupy the land in Tibetan territory. The Tibetans didn't like this Chinese activity, and from 1956 on, they started revolting against it.
On March 10, 1959, a big Tibetan uprising began in Lhasa. However, the Chinese army strongly suppressed it. 85,000 Tibetans were killed in the uprising.
People around the Dalai Lama advised him to leave the country. At first, he didn't want to leave Tibet, but when the situation was getting worse, he finally agreed.
The Dalai Lama left Tibet in disguise and only with a small escort. He went across the mountains to India. There he established a government in exile and began helping Tibet from abroad.
Difficult words: revolt (a violent action against the government), uprising (a rebellion), suppress (to stop by force), in disguise (when you wear clothes that make you look like somebody else), escort (people who guard somebody), exile (a situation when you must live in another country for political reasons).
What measures can be taken to help the current situation in Tibet?
LEARN 3000 WORDS with DAYS IN LEVELS
Days in Levels is designed to teach you 3000 words in English. Please follow the instructions
below.
How to improve your English with Days in Levels: 

Test
Do the test at Test Languages.
Go to your level. Go to Level 1 if you know 1-1000 words. Go to Level 2 if you know 1000-2000 words. Go to Level 3 if you know 2000-3000 words.

Reading
Read two new articles article at Days in Levels every day.
Read one previous article too and check if you remember all new words.

Listening
Listen to the new article and read the text at the same time.
Listen to the new article without reading the text.

Writing
Answer the question under the new article and write your answer in the comments.