The day of the terrorist attacks on the US – level 3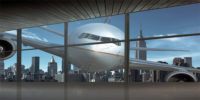 11-09-2001
On September 11, 2001, 19 hijackers took control of four commercial planes, and they carried out one of the deadliest terrorist attacks in history.
The calm atmosphere of a sunny morning in Manhattan, New York, was disturbed by the noise of aircraft engines and a subsequent huge explosion caused by an aircraft crashing into one of the towers of the World Trade Center. The impact turned one of the tallest skyscrapers in the city into a hell, and thousands of people trapped inside the building began their fight for life.
16 minutes later, another plane crashed into the neighboring tower. A third plane crashed into the Pentagon government building. Passengers of the fourth hijacked plane tried to overpower the hijackers; however, the plane crashed into the fields in Pennsylvania.
Hundreds of millions of people watched the two enormously damaged towers of the World Trade Center collapse. In the months following the attack, security at many airports worldwide was escalated to prevent similar attacks in the future.
Difficult words: hijacker (a person who takes over a plane, ship, or another vehicle by force), trapped (being in a difficult situation from which it is not possible to escape), escalate (to increase rapidly).
What measures have been implemented to improve air travel safety since September 11, 2001?
LEARN 3000 WORDS with DAYS IN LEVELS
Days in Levels is designed to teach you 3000 words in English. Please follow the instructions
below.
How to improve your English with Days in Levels: 

Test
Do the test at Test Languages.
Go to your level. Go to Level 1 if you know 1-1000 words. Go to Level 2 if you know 1000-2000 words. Go to Level 3 if you know 2000-3000 words.

Reading
Read two new articles article at Days in Levels every day.
Read one previous article too and check if you remember all new words.

Listening
Listen to the new article and read the text at the same time.
Listen to the new article without reading the text.

Writing
Answer the question under the new article and write your answer in the comments.