The day of the terrorist attacks on the US – level 1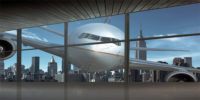 11-09-2001
It is a sunny morning in Manhattan, New York. People are coming to work. Nobody knows that something terrible will happen soon.
19 terrorists get on board four planes. They have knives and other weapons. They get control of the planes.
The first plane crashes into the tower of the World Trade Center. It is the tallest building in the city. The tower starts to burn. There is a lot of smoke. The second crash happens only 16 minutes later. The second tower starts to burn, too.
Millions of people watch the attacks on TV. They are shocked. Both towers fall.
The third plane crashes into the Pentagon building. The fourth plane crashes into fields.
Nearly 3,000 people die in the attacks. Airports all over the world change their security rules. It is not possible to take knives and dangerous objects on board.
Difficult words: terrible (very bad), shocked (when you are surprised and you cannot believe what happens), security rules (things which people must do because they will be safe).
What were the long-term consequences of the 9/11 terrorist attacks?
LEARN 3000 WORDS with DAYS IN LEVELS
Days in Levels is designed to teach you 3000 words in English. Please follow the instructions
below.
How to improve your English with Days in Levels: 

Test
Do the test at Test Languages.
Go to your level. Go to Level 1 if you know 1-1000 words. Go to Level 2 if you know 1000-2000 words. Go to Level 3 if you know 2000-3000 words.

Reading
Read two new articles article at Days in Levels every day.
Read one previous article too and check if you remember all new words.

Listening
Listen to the new article and read the text at the same time.
Listen to the new article without reading the text.

Writing
Answer the question under the new article and write your answer in the comments.