The day of the Tenerife airport disaster – level 3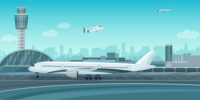 27-03-1977
On March 27, 1977, a big plane is ready to take off from the Spanish island of Tenerife. There are 248 people on board.
There is also another big plane slowly moving on the runway. There is thick fog on the runway, and visibility is greatly reduced for pilots of both planes who don't see each other.
The pilots communicate with the control tower over the radio. Unfortunately, there is a misunderstanding in communication. The second plane is still on the runway hidden in fog when the pilot of the first plane initiates its take-off.
He is already going very fast on the runway when he sees the second plane. He tries to lift his plane into the air, but it is too late. The planes are already very close to each other and a big collision occurs.
The impact and resulting fire kill everyone on board the first plane. Only 61 people survive from the second plane. Altogether 583 people die, making this accident the deadliest in aviation history.
Difficult words: visibility (the distance it is possible to see), initiate (to start), occur (to happen), impact (when one thing hits another thing really hard), aviation (flying by plane).
What other safety measures could have been taken to prevent such a disaster?
LEARN 3000 WORDS with DAYS IN LEVELS
Days in Levels is designed to teach you 3000 words in English. Please follow the instructions
below.
How to improve your English with Days in Levels: 

Test
Do the test at Test Languages.
Go to your level. Go to Level 1 if you know 1-1000 words. Go to Level 2 if you know 1000-2000 words. Go to Level 3 if you know 2000-3000 words.

Reading
Read two new articles article at Days in Levels every day.
Read one previous article too and check if you remember all new words.

Listening
Listen to the new article and read the text at the same time.
Listen to the new article without reading the text.

Writing
Answer the question under the new article and write your answer in the comments.