The day of the Space Shuttle Columbia disaster – level 3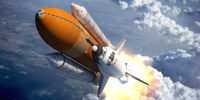 01-02-2003
On January 16, 2003, six American astronauts and one Israeli boarded the Space Shuttle Columbia. At take-off, a piece of insulation fell from the external fuel tank and hit the wing of the shuttle. The heat shield was damaged but it was considered a minor incident. Experts claimed that no serious damage could have happened.
The astronauts went on to carry out a series of planned experiments. 16 days later, the time came to return to Earth. All seven members of the crew were eager to stand on solid ground again. They were supposed to land at the Kennedy Space Center in Florida only twenty minutes later.
When the shuttle entered the Earth's atmosphere, the temperature on the surface of the shuttle went up quickly. And at one moment, it was too much for the damaged heat shield. There was an explosion and the shuttle broke apart in the sky. All seven astronauts died in the accident.
After the disaster of Columbia, NASA shuttle missions were stopped until 2005 when the Space Shuttle Discovery was launched into space.
Difficult words: space shuttle (a vehicle for going to space – a spacecraft), insulation (a material that is used to keep something warm or cold), heat shield (a layer of material that protects something from too much heat), carry out (to do), eager (when you look forward to something very much)), launch (to send into space).
What changes were made to the shuttle system after the Columbia disaster in order to minimize the risk of similar disasters in the future?
LEARN 3000 WORDS with DAYS IN LEVELS
Days in Levels is designed to teach you 3000 words in English. Please follow the instructions
below.
How to improve your English with Days in Levels: 

Test
Do the test at Test Languages.
Go to your level. Go to Level 1 if you know 1-1000 words. Go to Level 2 if you know 1000-2000 words. Go to Level 3 if you know 2000-3000 words.

Reading
Read two new articles article at Days in Levels every day.
Read one previous article too and check if you remember all new words.

Listening
Listen to the new article and read the text at the same time.
Listen to the new article without reading the text.

Writing
Answer the question under the new article and write your answer in the comments.