The day of the Smolensk air disaster – level 2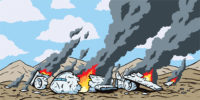 10-04-2010
On April 10, 2010, a Polish plane was flying to Russia. There were many important Polish people on board the plane. President Lech Kaczynski and his wife were there. Top army officers and members of the parliament were also on board.
The plane was flying to an airport which was old and not suitable for a big plane.
There was big fog at the airport, so the captain got an opportunity to land at another airport. However, some army officers on board the plane didn't like it and pushed the captain into landing the plane. When he tried to land, the plane came into contact with the trees and then crashed.
96 people on board died. It was a national disaster for Poland.
Difficult words: suitable (good for something), opportunity (a chance), however (old and not very good), crash (to have an accident).
What do you think about this day?
LEARN 3000 WORDS with DAYS IN LEVELS
Days in Levels is designed to teach you 3000 words in English. Please follow the instructions
below.
How to improve your English with Days in Levels: 

Test
Do the test at Test Languages.
Go to your level. Go to Level 1 if you know 1-1000 words. Go to Level 2 if you know 1000-2000 words. Go to Level 3 if you know 2000-3000 words.

Reading
Read two new articles article at Days in Levels every day.
Read one previous article too and check if you remember all new words.

Listening
Listen to the new article and read the text at the same time.
Listen to the new article without reading the text.

Writing
Answer the question under the new article and write your answer in the comments.