The day of the Phoenix Lights – level 3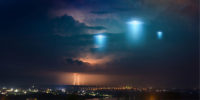 13-03-1997
On the evening of March 13, 1997, strange big lights began to appear over the horizon of the US state of Arizona. There were usually 5 lights visible and they were arranged in the shape of a huge arrow. The total length of the formation was up to 1.5 kilometers, which was much bigger than the size of regular planes.
Most people also reported that the lights were moving quite low and without a sound. They were moving slowly and constantly.
The witnesses included university professors, doctors, and airline pilots. The lights were also seen by one air traffic operator, who was terrified to see 5 flying lights in the sky while there was nothing visible on the radar.
Although thousands of witnesses confirmed UFO sightings, people didn't get a clear answer to what exactly it was. For a long time, the authorities didn't want to comment on this matter and give a clear answer.
It wasn't until 4 months later that the army issued an official statement. They said the objects were special army flares.
Difficult words: arrow (a shape made of two lines that are connected at one point), terrified (very scared), UFO (unidentifiable flying objects), sighting (a moment when people see something special), authorities (organizations that have the power to make decisions, for example, a local government), flare (a thing which produces light and is used as a signal).
What was the official statement made by the US Army about the mysterious lights witnessed on March 13, 1997?
LEARN 3000 WORDS with DAYS IN LEVELS
Days in Levels is designed to teach you 3000 words in English. Please follow the instructions
below.
How to improve your English with Days in Levels: 

Test
Do the test at Test Languages.
Go to your level. Go to Level 1 if you know 1-1000 words. Go to Level 2 if you know 1000-2000 words. Go to Level 3 if you know 2000-3000 words.

Reading
Read two new articles article at Days in Levels every day.
Read one previous article too and check if you remember all new words.

Listening
Listen to the new article and read the text at the same time.
Listen to the new article without reading the text.

Writing
Answer the question under the new article and write your answer in the comments.