The day of the Phoenix Lights – level 1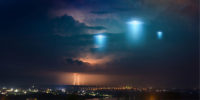 13-03-1997
It is March 13, 1997, in the evening. People see big lights in the sky. It is in Arizona. People see five lights in one big formation. The formation is 1.5 kilometers wide.
The lights are moving low and without a sound. They are moving slowly and constantly.
Many people see the lights. Some of them are professors, doctors, and pilots. One airport operator also sees the lights. He is shocked when he sees 5 lights in the sky. He doesn't see them on the radar.
Thousands of people see this UFO. They don't know what it is. For a long time, the government doesn't want to give a clear answer.
Four months later, the army says that the lights are flares.
Difficult words: formation (a shape), constantly (continually), UFO (unidentifiable flying objects), government (the leaders of a country), army (many soldiers), flare (a light which is a signal).
What are the other possible explanations for what people saw on the night of March 13, 1997?
LEARN 3000 WORDS with DAYS IN LEVELS
Days in Levels is designed to teach you 3000 words in English. Please follow the instructions
below.
How to improve your English with Days in Levels: 

Test
Do the test at Test Languages.
Go to your level. Go to Level 1 if you know 1-1000 words. Go to Level 2 if you know 1000-2000 words. Go to Level 3 if you know 2000-3000 words.

Reading
Read two new articles article at Days in Levels every day.
Read one previous article too and check if you remember all new words.

Listening
Listen to the new article and read the text at the same time.
Listen to the new article without reading the text.

Writing
Answer the question under the new article and write your answer in the comments.