The day of the oil disaster in Alaska – level 3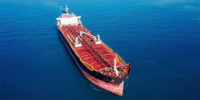 24-03-1989
The Gulf of Alaska was a place with beautiful nature, surrounded by glaciers. The Gulf was home to seals, killer whales, and many species of fish.
There were also giant tankers sailing through the Gulf, transporting oil from Alaska to Los Angeles, California. On March 24, 1989, one of these tankers crashed into a coral reef. The tanker which was loaded with more than 100,000 tons of oil started leaking.
An area of 21 thousand square kilometers was affected. The oil covered the bodies of many animals that lived in the Gulf.
Ecologists came to the disaster area and tried to help as many animals as they could. They built improvised rescue stations on the shores of the Gulf and tried to clean the wild animals from the oil. Unfortunately, they were able to help only a minimum of them. TV stations all around the world showed pictures of dying animals that couldn't be helped. It was a devastating sight. The oil killed 250,000 birds, 300 seals, 20 killer whales, and millions of fish.
Difficult words: surround (to be around something), glacier (a large mass of ice in the mountains), reef (a line or rocks made of coral), leak (when a liquid goes from something through a hole), sight (something that you can see).
What solutions do you think can be put in place to better protect our ecosystems and wildlife from similar environmental disasters?
LEARN 3000 WORDS with DAYS IN LEVELS
Days in Levels is designed to teach you 3000 words in English. Please follow the instructions
below.
How to improve your English with Days in Levels: 

Test
Do the test at Test Languages.
Go to your level. Go to Level 1 if you know 1-1000 words. Go to Level 2 if you know 1000-2000 words. Go to Level 3 if you know 2000-3000 words.

Reading
Read two new articles article at Days in Levels every day.
Read one previous article too and check if you remember all new words.

Listening
Listen to the new article and read the text at the same time.
Listen to the new article without reading the text.

Writing
Answer the question under the new article and write your answer in the comments.